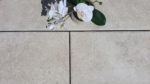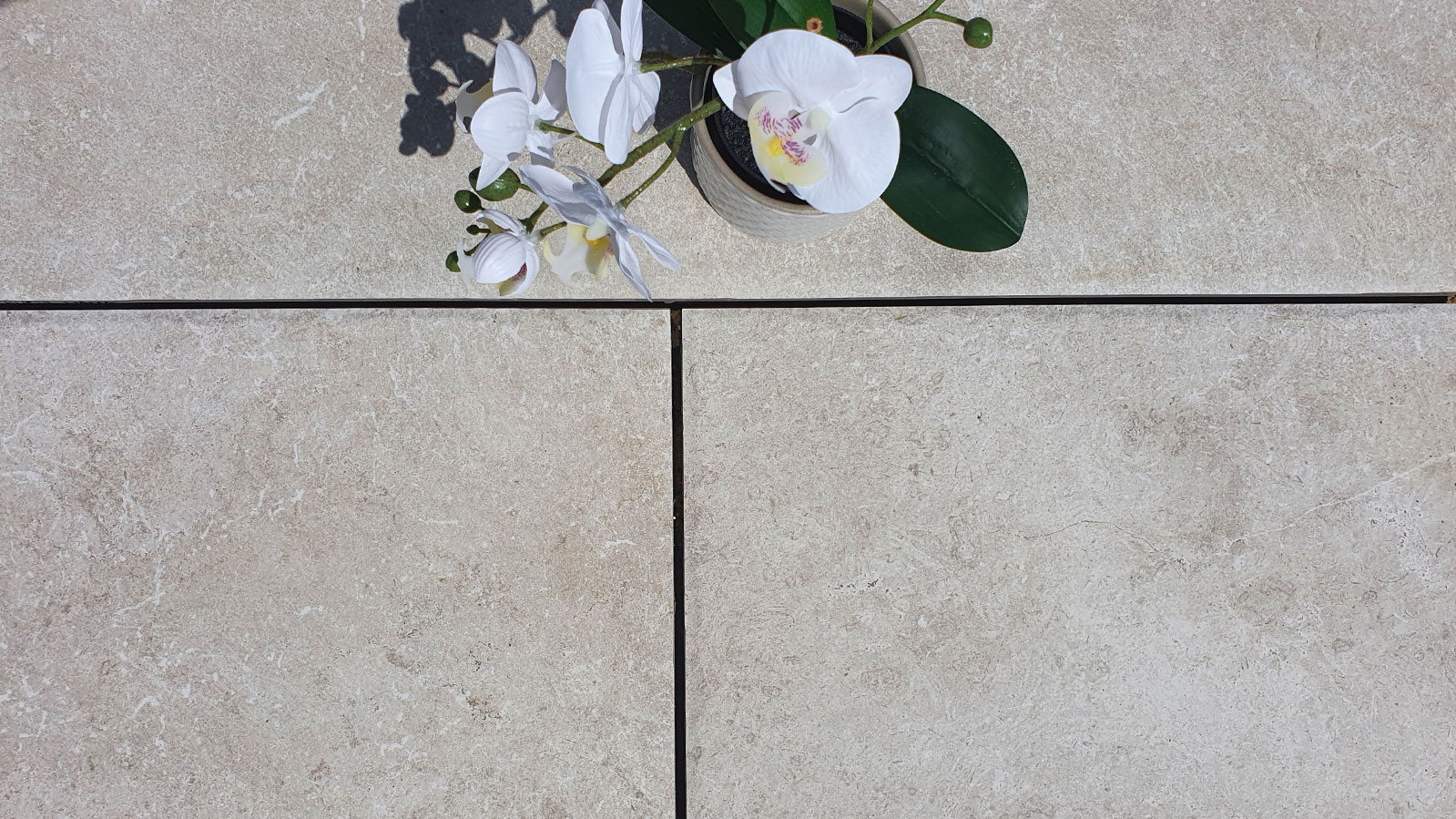 Love the cottage style but not sure how to incorporate porcelain and maintain the period vibes? Don't worry; in this article, we'll give you tips and tricks on how to get that English country garden feel straight out of a story book.
Picking the right porcelain paving for a cottage style
The variable tones and textured finish of natural stone make it perfect for adding a vintage feel to any project, but if you're looking for a paving option that's durable and easier to look after, then choosing a porcelain with a heritage feel can look just as cottagey. Look for a textured surface, soft cream, coffee and sandy tones and tumbled edges, like those found in our Exbury range. In particular, our Exbury Heritage and Exbury White are ideal for injecting that English country garden feel into any project.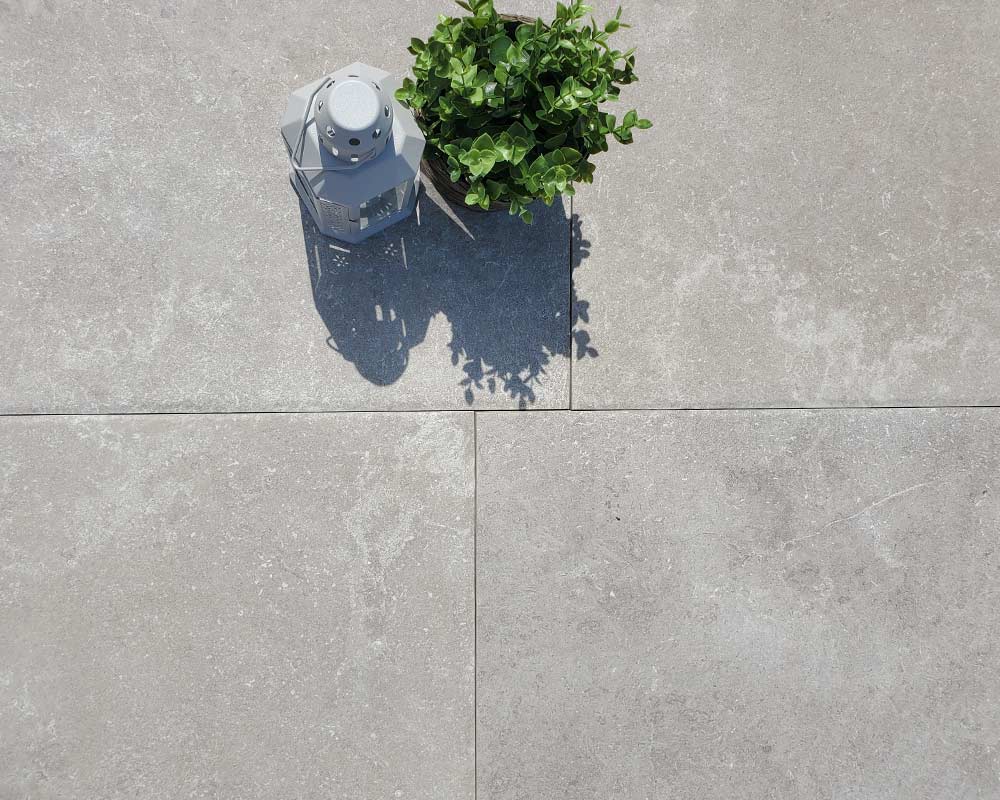 Laying pattern and design
A simple, uniform laying pattern can look chic and modern. However, when aiming for a more period look, asking your landscaper to lay your paving slabs in a more random pattern with random joins, giving you a more natural look, can really help create that quaint, cottage feel. When considering the design of your paving, it's worth thinking outside the box. Curved edges and winding paths, bordered by classic English plants, can provide a magical, unique feel to your garden. Using your porcelain to create various, smaller patio areas, rather than one large space, means you can utilise different designs for each area, giving the feel of different 'rooms' or spaces which can be enjoyed for different events or at different times of the day. The image below shows how effective using a different laying pattern and the breaking up of a garden into rooms can be at creating that traditional English look using contemporary porcelain paving. Garden designed by Room With a View Garden Design.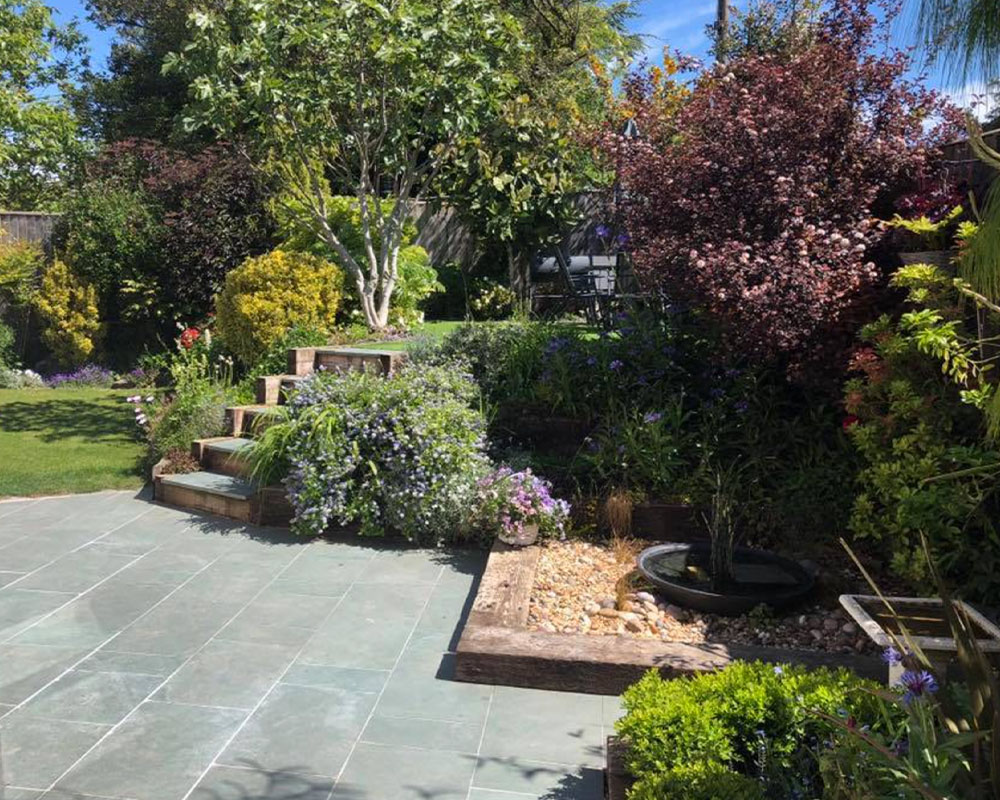 Edging and borders
Flower bed edging and porcelain and stone setts can enhance the varied look of a classic English country garden. Adding setts, such as our Silver Granite Setts or our Hale Beige Sandstone setts can break up clean lines and add variety and charm to small and large projects alike. Metal or wood flower bed edging can also help to break up the porcelain, adding different textures and tones, just like in the Room With a View design above. 
Plants and accessories
Adding classic plants such as foxgloves, verbena and lavender always lends a period feel to any garden, and they smell amazing too! When picking plants, choosing foliage and flowers that contrast against your paving can really make the garden pop. For example, orange, blue and white look great against grey porcelain, such as our Ipley Grey. While Pinks and purples can bring out the varied tones in beige and white shades, like those found in our Vereley Beige porcelain. Rustic furniture, vintage pots and urns, and weathered sculptures can all provide a unique, personal style and add the perfect finishing touch to give you that cottage feel.