Want a luxury looking garden but don't have an unlimited budget? In this article, we'll outline how to achieve that high-end feel without denting the bank balance too much!
Quality over quantity 
When designing a luxury garden, it's tempting to choose cheaper materials and pack the design full of furniture, accessories and plants to 'fill out' the look. However, to avoid that fussy, busy look, we recommend choosing materials that have a little higher price point and creating a design that showcases them to the max. For example, rather than picking the cheapest paving and laying it across a large area, choosing a clean, premium looking paving design, like our Exbury porcelain, can be laid in a few smaller areas in your garden for a unique and classy look – while also keeping the budget down. Another example of this is when choosing your plants. Instead of buying lots of small flowers, plants, and planters, we suggest investing in a few larger plants or trees and pots. This makes a real statement and gives the illusion of that 'expensive feel'.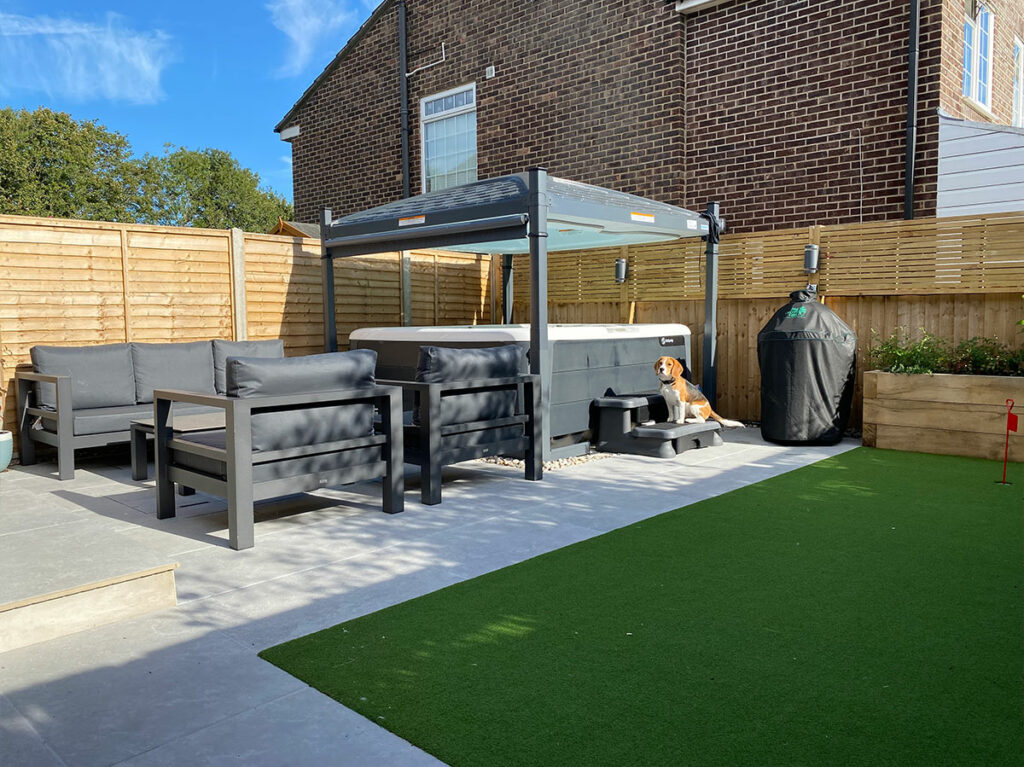 Premium look, budget price
You've spotted your dream paving on Pinterest… but oh, the price! It's enough to make you weep. But don't worry, all is not lost. With a little research you'll often find that there's a very similar paving slab out there at a fraction of the cost. An example of this is our Lymington Beige Limestone paver – a beautiful Egyptian natural stone with a luxurious feel that very closely mimics some far more expensive options on the market. Another beautiful paving slab at a great price is our Minstead Beige and Grey porcelain, which has the luxurious, modern finish of a high-end Italian porcelain at a fraction of the cost.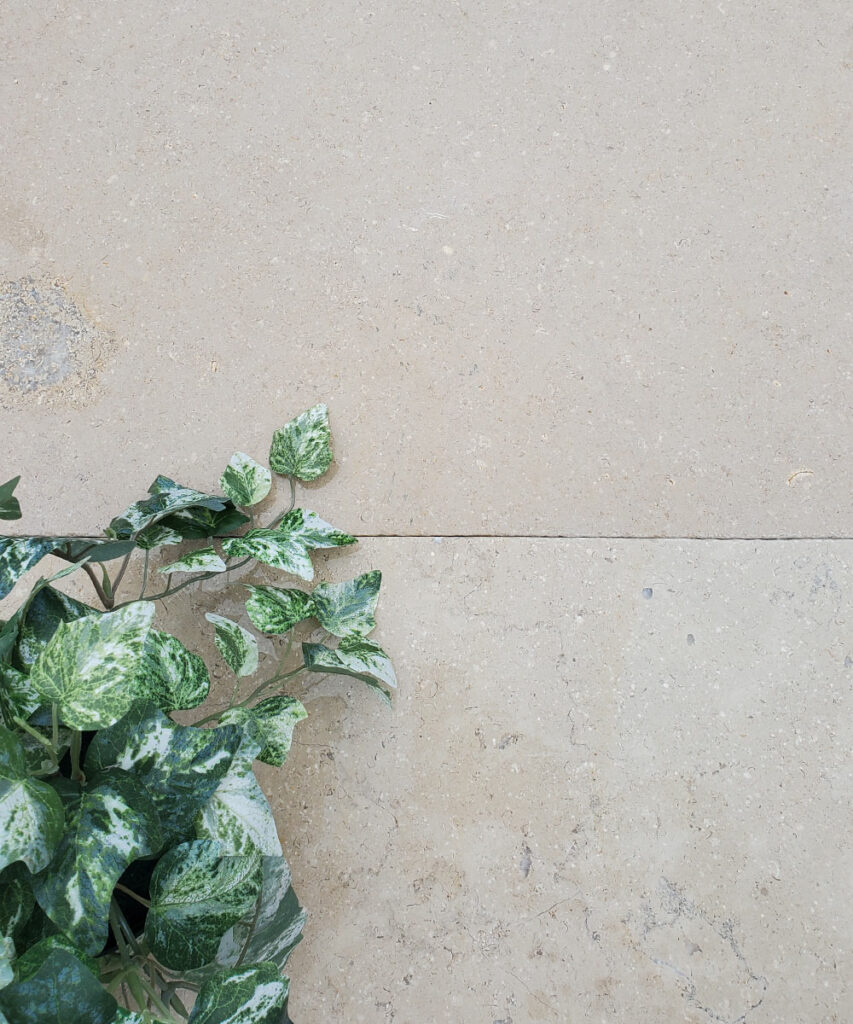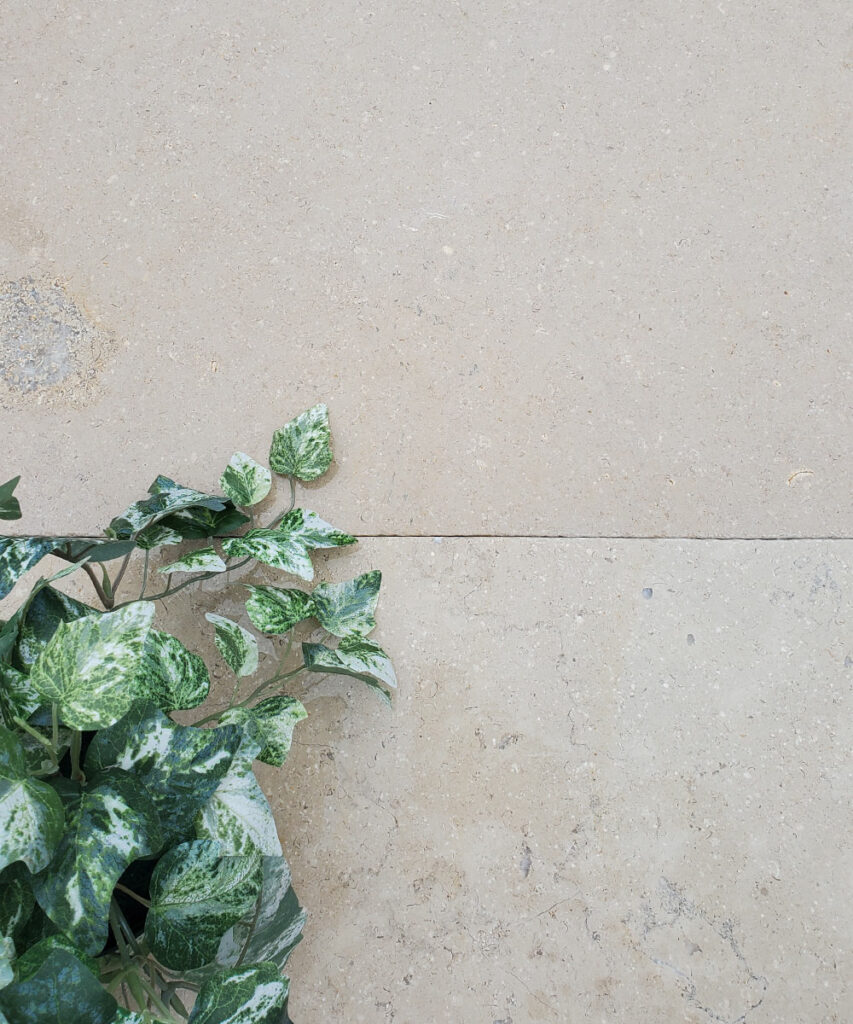 Get on the hunt for unique finds!
Who wants a garden the same as everyone else? Buying accessories from generic shops can lead to an uninspired and lacklustre look. Tracking down unique, second-hand pieces from the internet, thrift shops and reclamation yards can give your project a truly unique feel and give the impression that you've curated expensive pieces from exclusive shops. A well-placed vintage mirror or garden clock can be worth more that ten smaller items bought from the high street, and sourcing them second-hand will do wonders for keeping your budget down.
Cutting corners can cost you in the long run 
When attempting to keep the budget down, it can be tempting to hire landscape gardeners and construction people who offer cheaper rates. Although not always the case, in our experience, when someone is offering their services at a very low rate compared to their competitors, this can be a red flag. Sub-standard work can lead to a lot of pain and a hell of a lot of money to fix the issues in the long run. Unless you absolutely trust the person one hundred percent or have seen genuine positive reviews and pictures of their past work, then it's best to consult with companies that have been recommended to you by other happy clients to ensure the work is completed to a high standard – even if it does mean paying little more. Because, let's face it, nobody wants to spend their hard-earned money on beautiful materials, only to have them ruined by shoddy workmanship. To add to that, unless you are very confident in your own abilities, we recommend that you do not try to complete the work yourself, and instead consult with professionals. You're far more likely to have a high end finish to your build when you employ skilled and experienced landscapers. If you're struggling to find a good landscape team and you are in the Hampshire and south coast areas then get in touch with us. We work with a lot of excellent landscape construction specialists and can put you in touch with a company that will do your build justice.