Want the rustic, tumbled edges of a natural stone but don't want the maintenance that comes along with it? Then porcelain paving with tumbled edges may be the perfect solution. The rustic look combined with the easy cleaning and maintenance make porcelain paving the ideal solution for those wanting country vibes with paving which looks great for years to come. In this article we'll outline why and where you'd use porcelain paving with tumbled edges.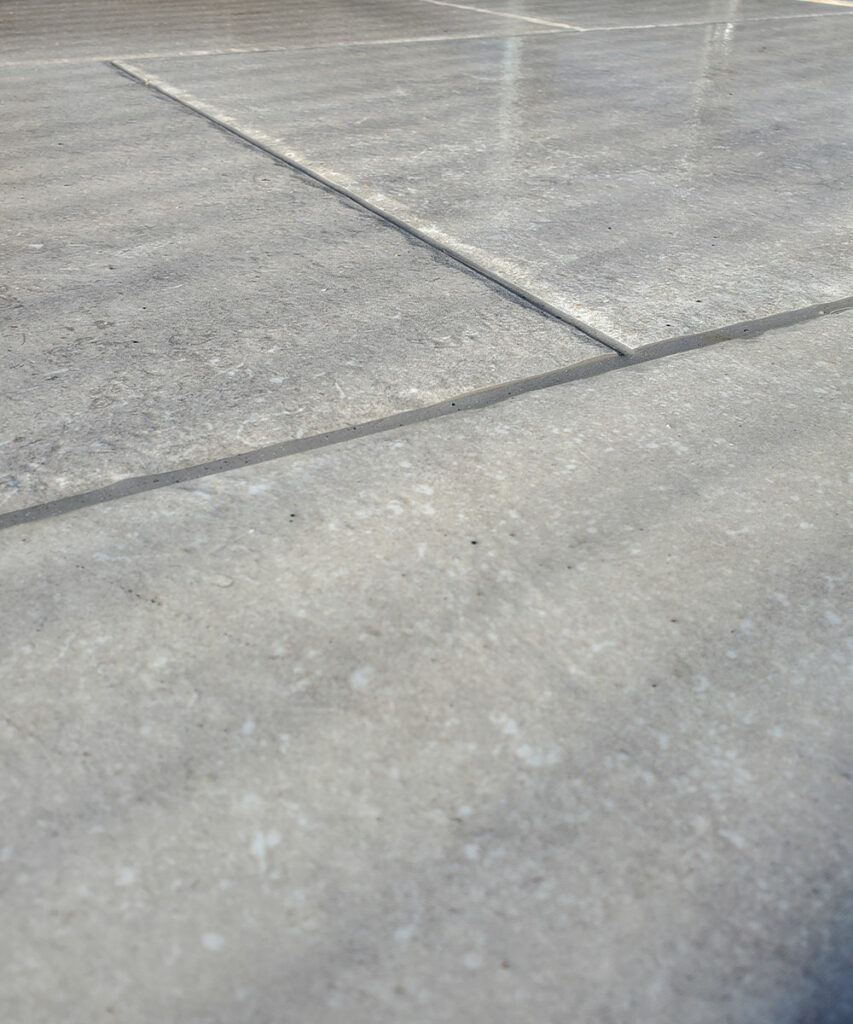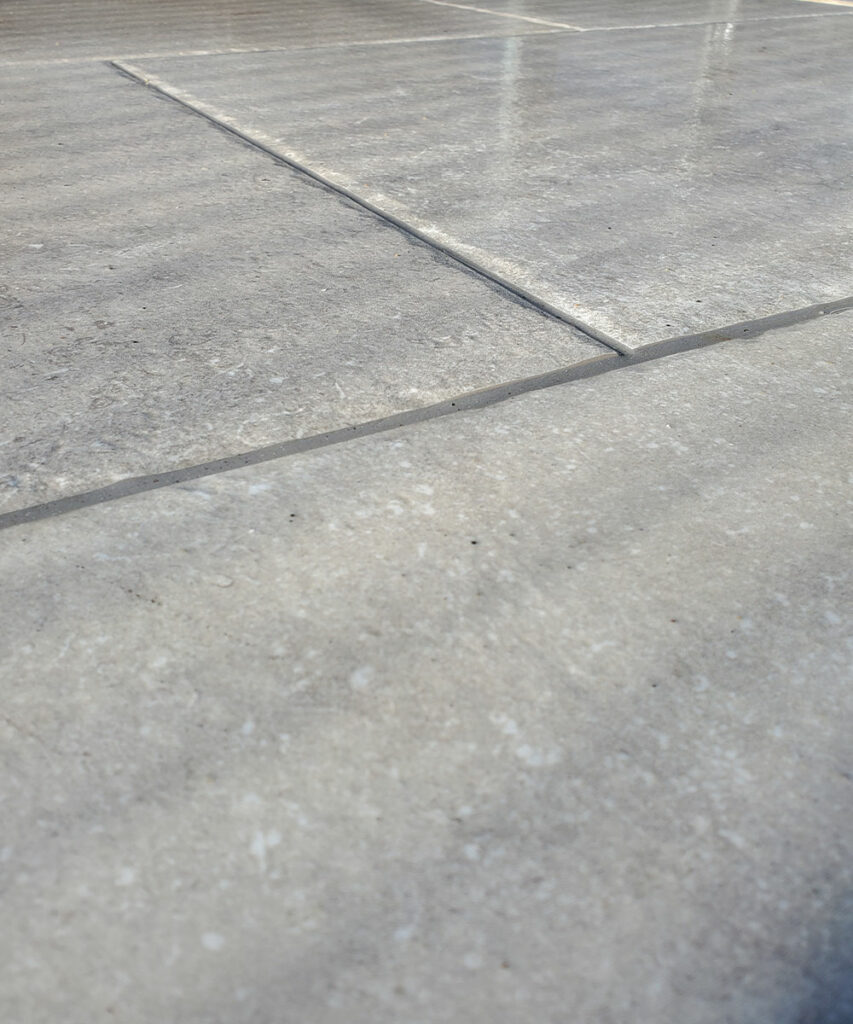 What are tumbled edges?
When we describe a porcelain tile that has tumbled edges, it means that, although the edges of the tiles are still cut straight, the surface of the edges have been made to look crinkled and textured – just like a flagstone. This texture around the edges is made using a mould that replicates the edge surface of natural stone.
Why use tumbled edge porcelain?
A tumbled edge gives a premium, characterful look to your project. Where porcelain with straight edges may look too plain, clean or modern, a tumbled edge porcelain, like our Exbury Range, is ideal for period properties or for projects with a country or rustic feel. Porcelain paving can be used in a variety of places and for various projects such as patios, driveways, around pools and for verandas. Our Exbury Range also comes with matching interior tiles, meaning you can carry on the paving from inside to outside for a seamless look. And our Exbury Range is not just for period projects – these tiles are modelled on Limestone giving them a timeless feel ideal for any home. The tumbled edge is a unique feature that will make your project stand out.
Anti-Slip Surface
One feature that can be quite critically important is the slip resistance of the paving you choose. Many of our clients fall in love with the beautiful smooth limestone we supply but are concerned it may be too slippy. Whilst we always insist it's possible to use even the smoothest of paving for your project the property owner ultimately needs to be happy with the safety aspect of walking and using their paving long after construction. To that end clients particularly worried about slipping can feel confident when using our Exbury Range of porcelain due to its R11 anti-slip surface. This slip rating is high enough for councils to use this product as paving in public spaces and you get the looks of a smooth high class limestone but the grip of a man-made surface specifically made to prevent slipping.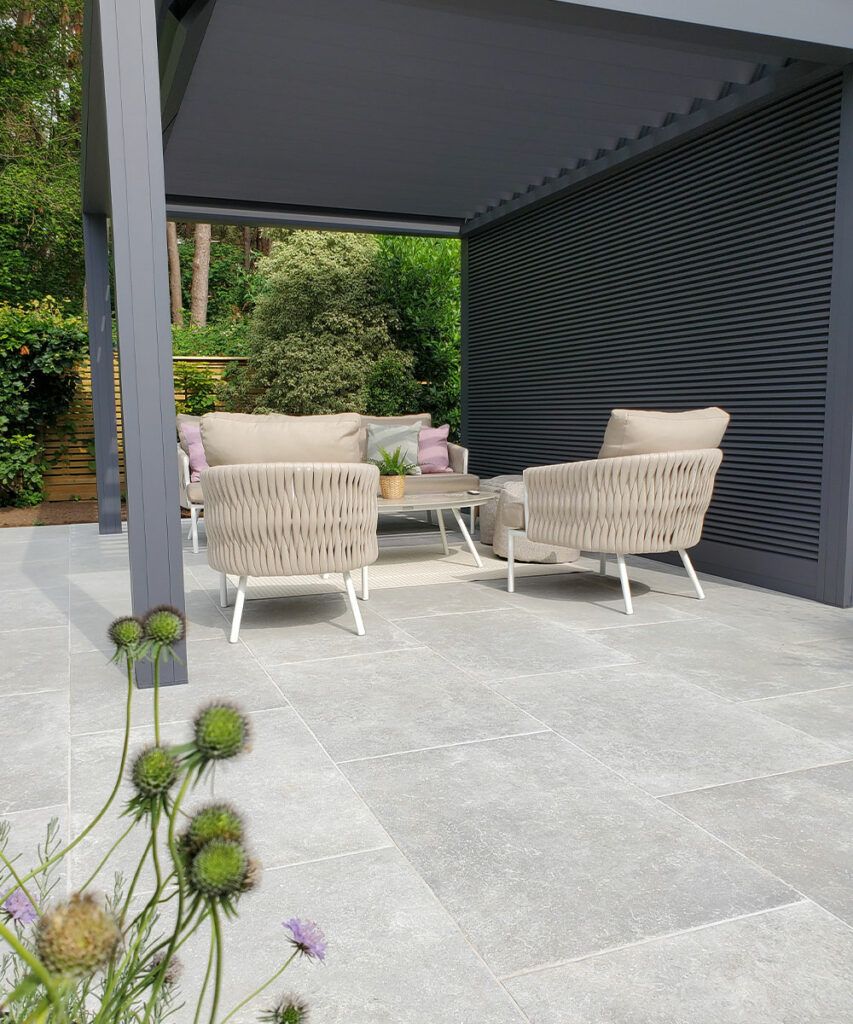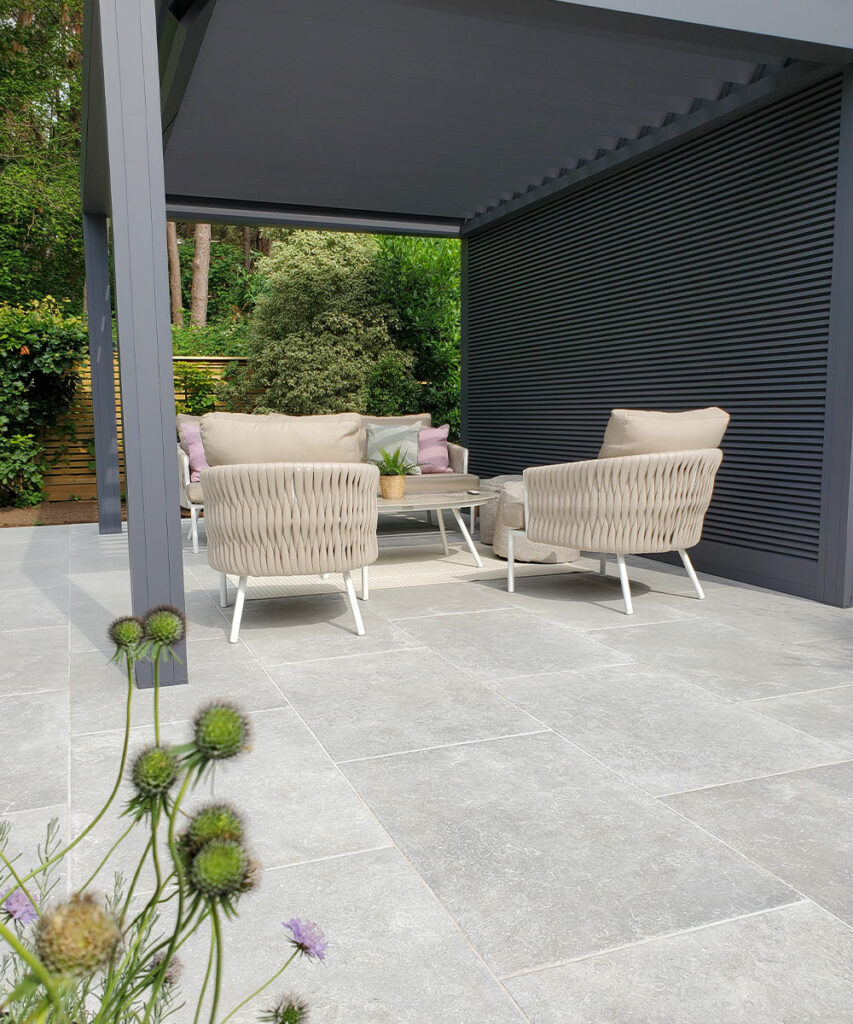 Does it come in a range of colours?
Yes, our Exbury range comes in three beautiful colours;
~ Exbury Grey – a beautiful, light cool-toned grey with a textured finish which looks perfect anywhere. A fairly pale grey this tile tends to give a spacious airy feel when compared with darker greys. The clean, cool tone also looks great against lighter brickwork and wood cladding or decking. 
~ Exbury White – a light creamy, mid-toned beige which looks amazing in gardens with cool or warm colour schemes. Again, the light tone is perfect for reflecting light in shady areas and making spaces feel larger, while also looking great in full sunlight for a clean, bright feel. This paving option looks particularly beautiful in gardens with colourful plants, as the neutral colour tone allows the colours in the plants to really shine. 
~ Exbury Hertitage – a mid-toned, warm grey-brown which looks beautiful for any project looking for that lived-in rustic feel. This paving option looks particularly beautiful against beige or red bricked buildings.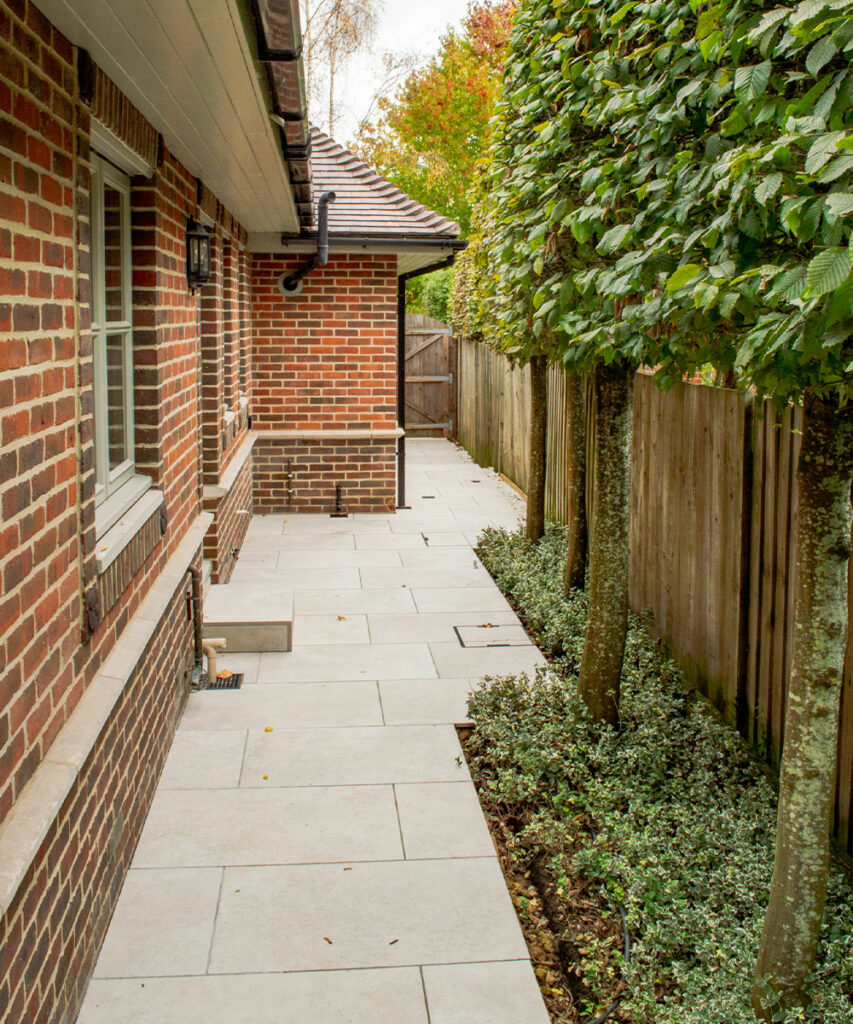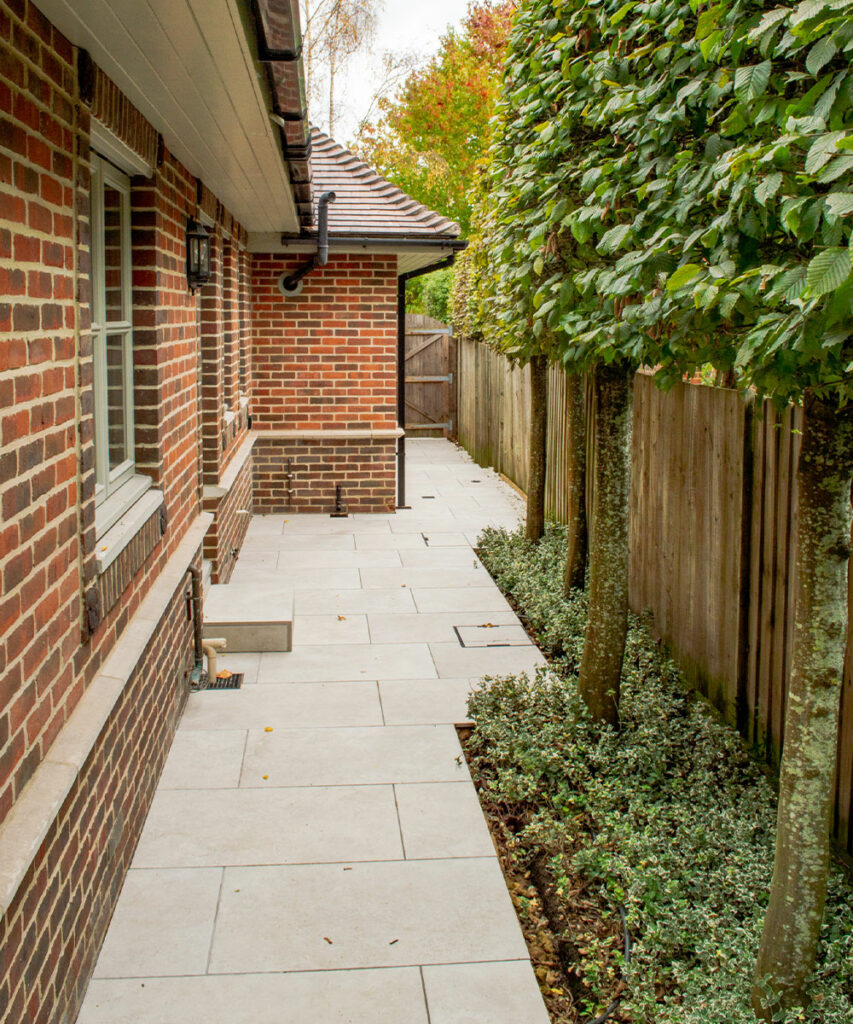 How easy is tumbled edge porcelain paving to lay and look after? 
On our Exbury porcelain range, the outer edge of the tile is still straight, so you can lay it with narrow pointing gaps – as narrow as 2/3mm. However, the tumbled feature is on the top surface of the tile with a slight bevel. This means you get the best of both worlds with having a characterful edge but modern, easy laying style – and there's no need to seal this paving. With these tiles you get a natural premium limestone look with low maintenance of porcelain, while also benefiting from its non-slip properties, making it safe for the entire family. We recommend regular cleaning with water and a stiff brush – only very stubborn marks or stains need a chemical to remove them. For best practices on maintenance of your paving check out our cleaning guide.
Is tumbled edge porcelain cost effective?
Absolutely! Our Exbury range is modelled on a first-class European limestone which would often cost around £70m2+VAT or more, whereas Exbury is only £44.50m2+VAT currently – fantastic value for a premium Italian tile.
For our full range of Exbury Tiles please click here. 
A beautiful Exbury Grey install is featured in this video. Designed by Joe Savage Garden Design and built by iScape Garden Construction.