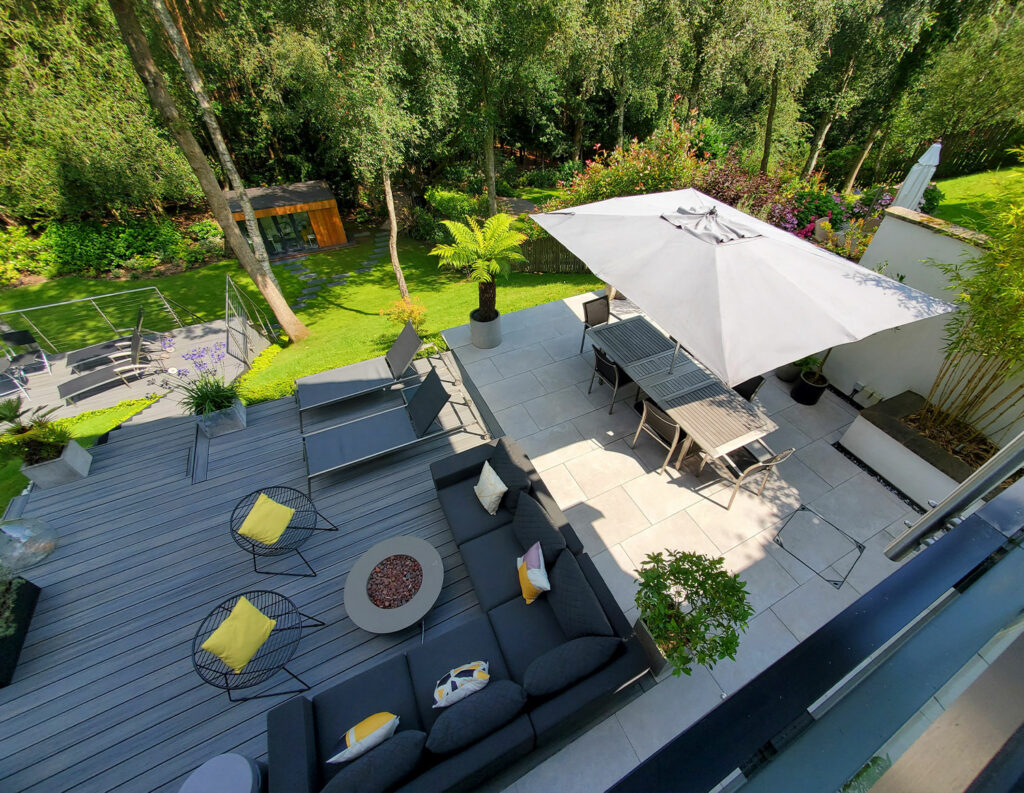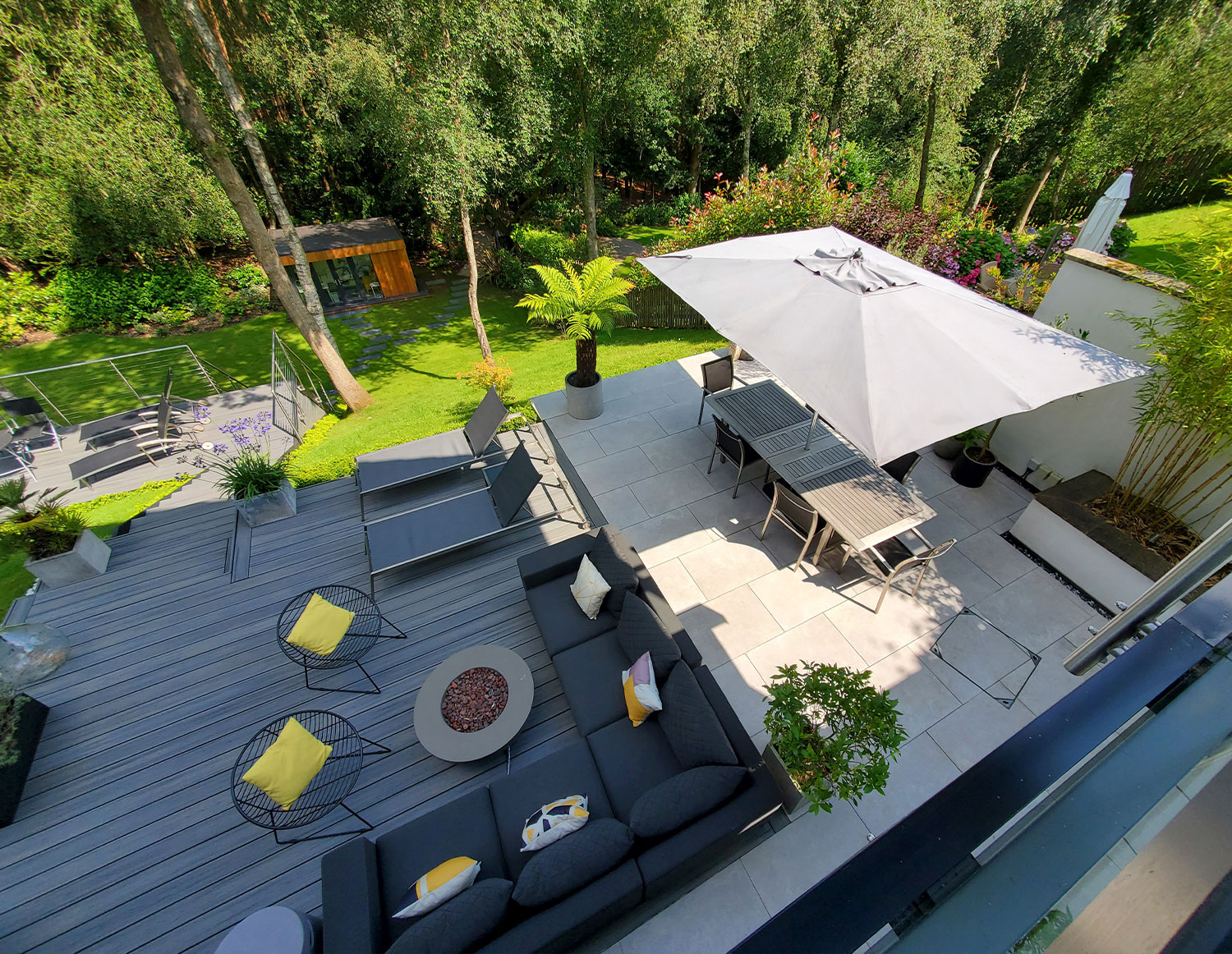 Despite the challenges of designing a sloped garden that's functional, it also has its benefits. Gardens on a hill or slope can provide plenty of unique opportunities to incorporate exciting ideas that wouldn't work as well on a flat garden.
In this article we'll give you some helpful hints and tips on how to make the most of your sloped garden and create a beautiful space that can be enjoyed by the whole family.
Retaining Walls & Multiple Levels
Unless you want to risk sliding down the hill all the time, creating flat levels and building retaining walls to keep the soil back is vital. Flat areas for different purposes can be built into the slope at various levels. Porcelain paving like our Minstead Grey, or our wood effect Balmer Brown, can be used to create a beautiful, secluded seating area. A variety of materials, from oak sleepers to brick and rendered walls, can be built to surround the space and hold back the earth. For a cottage look, pairing a rustic characterful porcelain like our Exbury White and an oak sleeper wall can give a cosy, country feel while injecting some light into the area. In the video below this project in Winchester we're working on with Joe Savage Design and Build shows that Joe is creating several tiers to make the best use of this space. The top tier focuses around entertaining and relaxing and features a terrace paved with our Exbury Grey – it will also house a hydrotherapy pool. The subsequent tiers are more for play and feature climbing frames and fun things to keep the children occupied!
 Steps, Walkways, Railings & Balustrades 
To ensure your various levels are easily accessible, you'll need to consider what kind of walkways you'd like to join them up. Steps using porcelain or natural stone that matches your chosen paving is a great was to tie everything together and create a seamless feel. Railings & balustrades in materials like wood or metal can add contrast and character to our project as well as giving you something to hold onto when navigating your way up and down your garden. If your garden is on a gentle hill, building sloped walkways using materials like wood, or wood effect, like our Balmer Grey porcelain planks, can be a great way to transition from one level to another.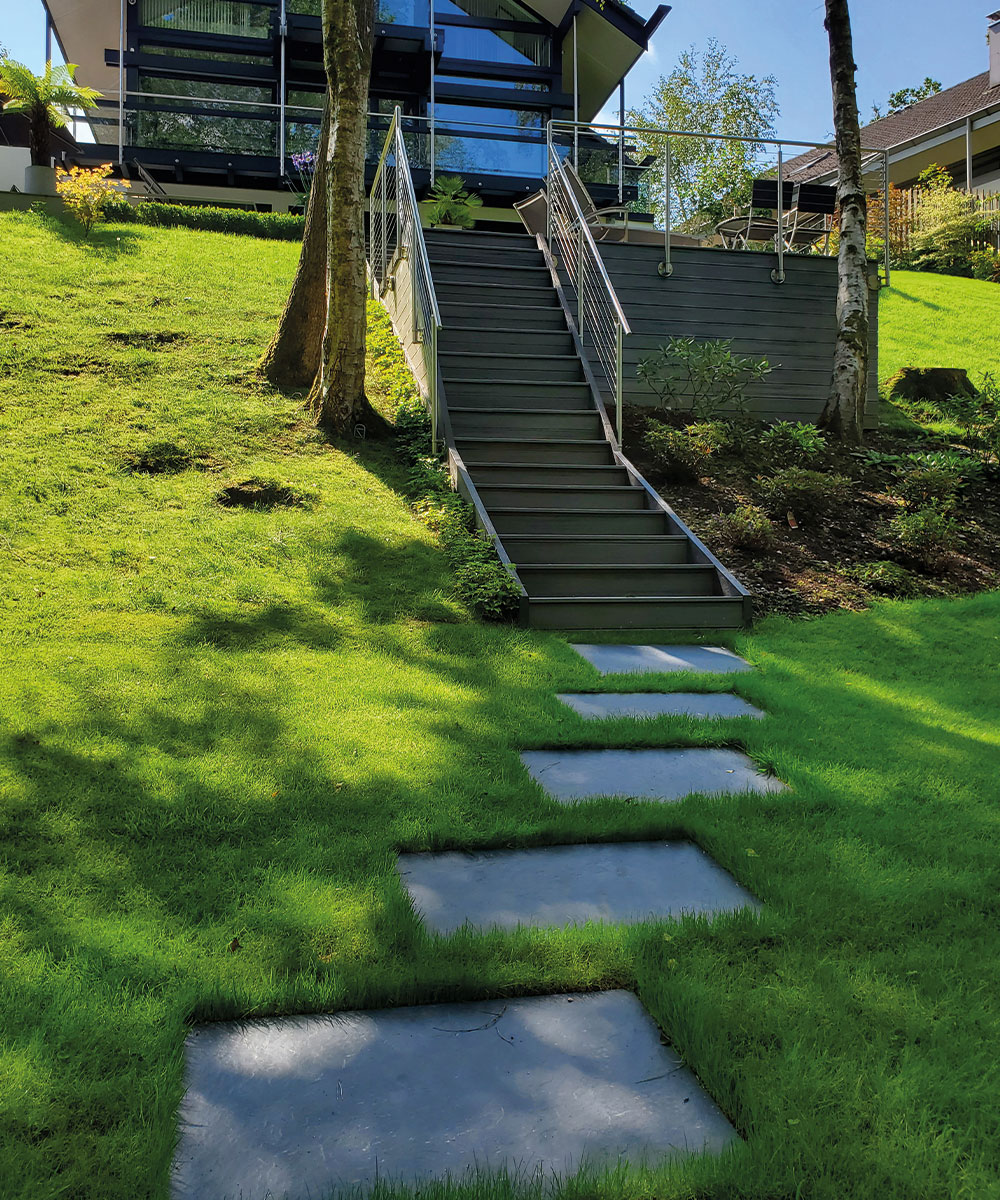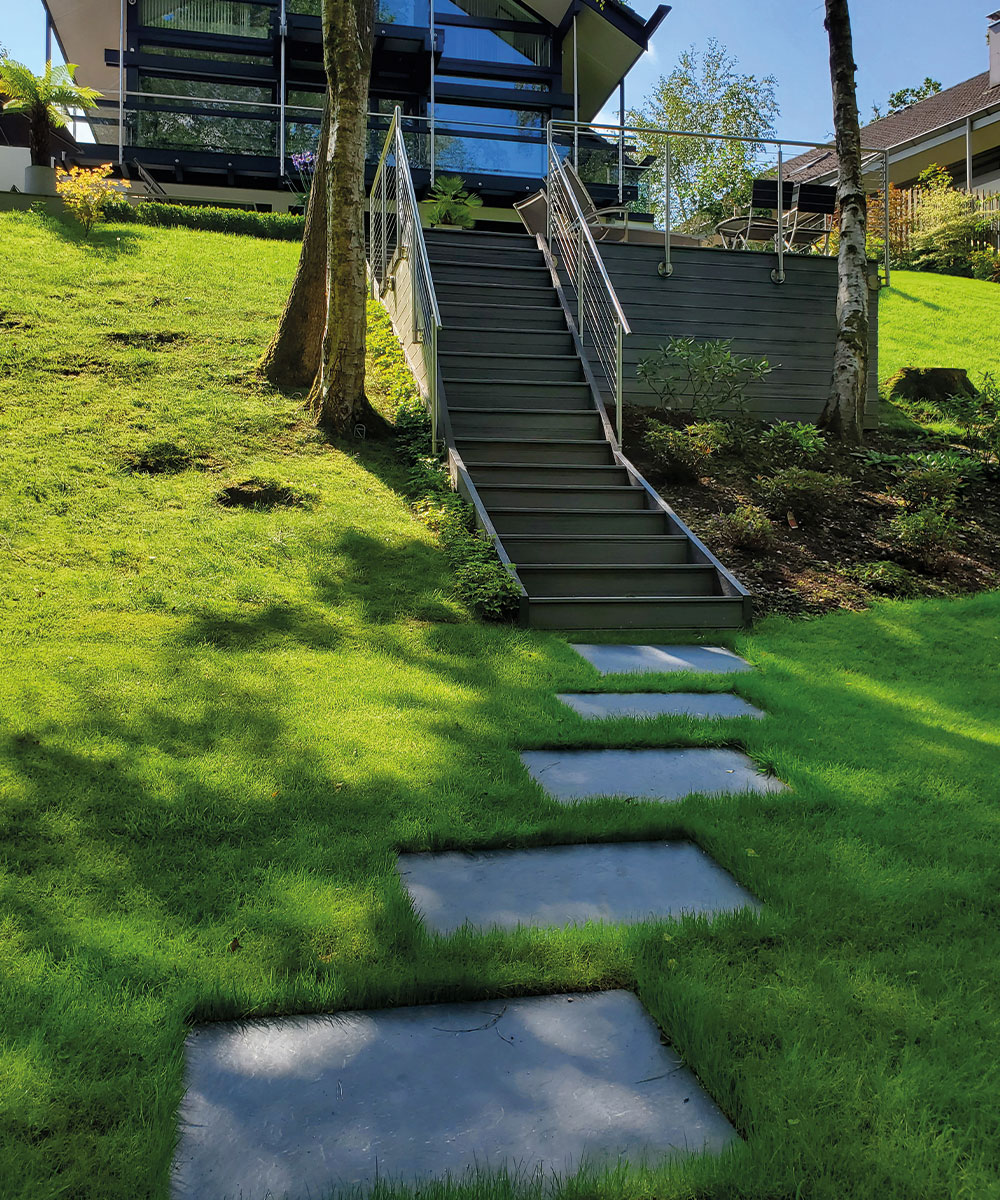 Be creative with shapes and planting
Instead of just having straight lines when creating your different levels, consider incorporating some curved walls. This can add contrast and soften any harsh edges, while also creating unique and interesting spaces to spend your time in. Building raised beds and planters is a great way to add greenery, flank your walkways and break up your seating and leisure areas. Lighting, placed in flower beds and into retaining walls can also help light up you seating areas and walkways at night and create a magical space to enjoy in the evenings.
Have fun!
One of unique advantages of a sloped garden is being able to add elements that may not be suitable for a flat garden. Ever fancied a plunge pool or a waterfall? Well, why not build these into your design. Waterfalls and water features that navigate their way through your garden levels can bring a relaxing feel. Or why not build a slid for the kids, or just for yourself to slide to different level? Be creative and have fun with it!
If you're still not sure where to start with designing your ideal sloped garden, then get in touch and we'll be happy to refer you to a garden designer or give you advice on materials and paving.